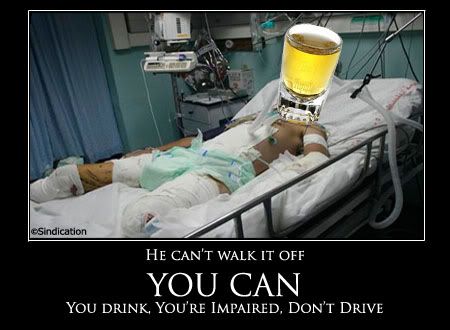 Knowledge is power people. For example I now know, I love the tequila! This is relatively ~new to me as I didn't drink until well after I was 21. I was busy with other things – nothing nefarious, and not busy like those people who say obnoxious things like, "I don't watch television – I'm too busy." Like I'm dumb or something because I want my idiot box on 24/7, anythink…
Reflecting upon this information and the responsibility that is mine if I choose to drink, I thought of what a pitiful, deplorable, negligent, disgraceful, wretched, shameful, poor job New Mexico is doing in preventing DWI.
We're pathetic. Campaign after campaign, a Czar, Task Force(s), etc., etc., blah, blah, blah. And we are still a showcase for the most bizarre, most grievous DWI homicides and infractions across all reaches of our state, from our largest city, to our capital city, and our smallest towns. Pa-the-TIC!
Enjoy the drink? Sure, but if you're rockin' the tequila, a fine brew, or some smooth wine – YOU ARE IMPAIRED. You are the 900 lb. man afflicted with beyond morbid obesity who had to be cut out his house by firefighters. You are the wartime casualty of a roadside bomb, you are incapable of moving under your own power. That's on all of us that's our part. We also need to keep our hands in the voting process, fingers on our telephones and emails to demand our government, he, hmm, Mr. Richardson/Ms. Denish, Mr. Mayor, Mr. Congressman, Senator, Judges, court staff – ENFORCE some DWI laws.
ABQ. Resource Links: Sober Navigator, Safe Ride Home