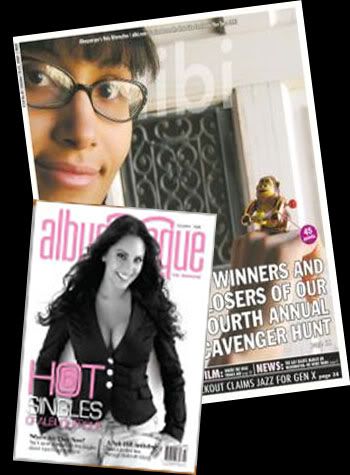 Me thinks somebody may have a 'lil case of Gloss Envy. I don't regularly get to pick-up a copy of the latest Albuquerque The Magazine, because I'm poor. But I'm almost always able to grab the free, alternative pulp, known to the Q as the weekly alibi.
It seems that the alibi's web editor has her own feature in the print newspaper this week entitled, "Thin Line – Media Criticism" and criticize she does. Slamming ABQ. the Mag for their annual Hot Singles issue and Par-TAY!
Now as I say, I'm not able to subscribe, but I have been to a few of the Mag's parties and they are always top shelf, blow-out, blasts! And while the editor bemoans the issue for its topic, content, matchmaking, and further labels the readers and participants with what I presume are supposed to be negative clichés, I couldn't help but notice that the pulpit from which she preaches contains no less than seven back pages that feature advertisements for flesh pedaling, skin shows and/or lewd personals.
In the end, the alibi editor begrudges ABQ. The Mag its "camp". And I'm sure the Mag would not deny the alibi matchmaking of its own, like that in its interactive, online Love Bird personals.